[Courses & Teachers]
[Paths of Peace]
[Wabisabiculture embodies the spirit of
Zen Meditative Arts in an authentic
Corner of Japan]
Wabisabiculture organizes and hosts regular courses and workshops with the participation of masters of Japanese art of
Sado (tea ceremony)
Ikebana (art of flowers arrangement)
Origami (art of paper folding)
Shodo (Calligraphy Art)
[Wabisabiculture promotes the spirit of
Zen meditation practice through Anapanasati (conscious breathing) for
peace and harmony of body and mind
Wabisabiculture organizes cultural meetings
on the Way of Tea and the benefits of
green tea.
[Zen]
[Weekly Activities]

ZEN [anapanasati]
Meditation on the Breath awareness, harmonize, relaxing the mind and body. sessions on Wednesday, Friday and Sunday at 21:00
[Zen Spirit]
wellbeing path
Zen Spirit 3 weekend
Zen Spirit 5 week
Zen Spirit to restore the psycho-physical energies. Zen meditation on the breath to pacify the mind. Give time to body and mind holistic weekends and holidays. Meditation for anxiety and stress reducing] >>info
[Buddhism]
spirituality
[Anapanasati and Vipassana]
Lama Khube Rinpoche
>>biography
4-7 october 2012
>>info
guided meditations and teachings by Lama Khube Rinpoche
[The Tea Way]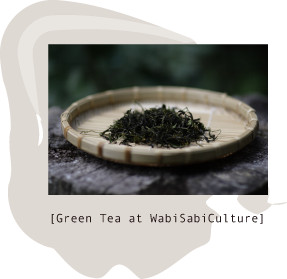 [The Organic Tea Way At WabiSabiCulture]
>>infodate
A cultural venue which introduce us to Green Tea through a philosophical journey to appreciate a millenarian tradition of well being. Ricky A. Swaczy co-founder of WabiSabiCulture is in the "way of tea" for over 15 years and will accompany us in a pleasant journey of discovery taste, health and meditation.
And is possible to stay overnight at Bio-Ryokan and/or take a Ofuro bath in the Traditional relaxing, Japanese Aromatherapy Inoki wooden tub.