[Ofuro]
[ishi no su no yu]
Wabisabi Ofuro is a warm relaxing room with a special Japanese bath for guests of the Ryokan Wabi Sabi, crafted to the tradition of ancient Japan, [ishi no yu not on] it has been designed and assembled by hand using a master craftsman in Tokyo. The Ofuro is made by Hinoki wood with knots (Japanese cypress), fine and fragrant essence of the Kiso Valley. The essential oils of Hinoki released by hot water and inhaled are helpful to reduce stress.
A very special and unique natural aromatherapy bath experience that prepares you to relax, immersed up to the chin in hot water whilst contemplating the Japanese maples and the surrounding nature in a moment of contemplation and meditation that will discharge the tensions and harmonize the energies; listening to the silence, your body, your breath in total awareness.
samu fuyu ni / kokoro atameru / kimi no aijo
(in the cold winter / warms your heart / your friendship)
[booking Ofuro japanese bath]
[40 minutes session in water
temp. winter 38/40° - summer 24/38°]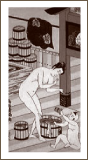 [The Japanese ritual bath]
The Japanese have opened the path to prosperity with the water through the ancient ritual of beauty and puryfication of body and soul, Ofuro, the bath is almost a religion in Japan, it is no coincidence that we find in the Shinto religion the origin of the Japanese bath. Before entering a temple people must be purified. The Shinto shrines were thus the first places where ordinary people could bathe. Following the development of the practice of the bath in Japan is linked to an attitude without taboos regarding nudity and fostering the integration of the banquet attendees a moment of individual or collective well-being.