[Bio-Ryokan]
[Bed & Breakfast in Bio-Architettura Eco Friendly]
[Ryokan in Japan is the definition given to the old country inns]
The receptive structure is an example of Italian-Japanese Rural Bio architectonic integration and consists of 3 stone houses and wood to form a sort of small hamlet. The bio-restoration that lasted 6 years was carried out following the rules of healthy green building and has expressed the state of the art work of precious artisans by the use of natural hydraulic mortars, colored sand, plaster and straw of barley and wheat, beams of wood, bamboo, cork to insulate and isolate, pebbles and stones to outline the external routes.
The center includes a solar hot water heating and an electrical shielded system, consequence of passion, love and dedication to the bio-project that takes into account the environment respect, with particular attention to environmental sustainability.
The Ryokan Japanese-inspired by Wabi Sabi is nested in an acre in an ancient forest of pine trees, including maples. peonies, wisteria and lavender and cosmos flowers, arranged on three levels connected by stone paths and gravel from a small lake inhabited by colorful koi.
[Emptiness Spaces]
In the cozy and warm inside you can experience the lifestyle of ancient Japan. All rooms have precious traditional tatami [straw mats cleverly woven by master craftsmen of Kyoto] framed in elegant forms [four and a half tatami] that together form a comfortable and healthy floor, natural space to roll out the practical mattresses cotton Futons that once used are folded and put away to leave the room cleared and suitable for other activities. In fact, in the ancient Japanese tradition, the rooms are dedicated for different purposes, representing the impermanence of the activities and the "empty" emptiness of the spaces.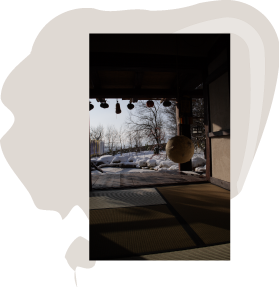 Ima is the living room where you can bask in front of an imposing fireplace made ​​of solid oak with enormous trunks, husked, lying on a comfortable futon covered by Vintage indigo boro fabric while tasting a fine Japanese Sencha bio-organic green tea. "vintage" atmospheres from Boro Textiles give the color to WabisabiCulture by a mix of shades of indigo blue and illuminated by the magic Tsuki-Moon Washi paper lanterns.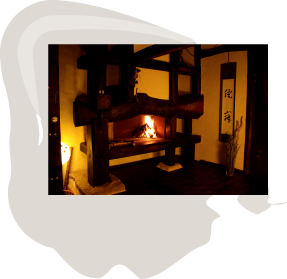 [Breakfast]
(country harmony delicatessen japan/italy)
[veggie-no-time]
[japanmeetitaly]